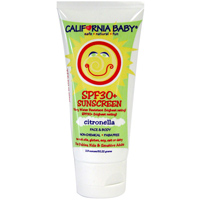 Today will officially be the hottest day of the year here in metro Phoenix. Yipee. For those of you who don't live here, imagine shoving your face in front of an iron-hot oven. And then imagine trying to breath. Urgh. The only saving grace of living smack in the middle of the hottest spot in the nation is that MOST of us don't leave the house without slathering up in sunscreen (right, Phoenicians? Better!). And we're always trying something new.
If you have sensitive skin, check out California Baby's Citronella SPF 30+ Sunscreen Lotion. Not just for the little ones, this fragrant summer blend provides UVA and UVB broad-spectrum protection and is free of PABA and chemicals. The active ingredient is a highly micronized titanium dioxide that scatters and reflects dangerous UV rays. Hypoallergenic and non-comedogenic, the lotion is water resistant so it won't drip into your eyes and sting when you sweat. The subtle essential oil blend of citronella, lemongrass and cedar atlas gives it a fresh aroma while soothing dry summer skin.
So no excuses – even you sensitive types – slather up. It's gonna be a hot one! The California Baby SPF 30+ Summer Blend sunscreen lotion is $19.99 at californiababy.com.