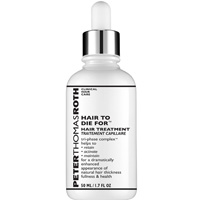 With a name like Hair To Die For, I had pretty high expectations for Peter Thomas Roth's hair treatment. I mean, could a simple serum really give me the hair I've been lusting after? Lucky for me, this product actually exceeded my expectations and was easy to use.
Even though my counters are overloaded with beauty products, I'm a simple girl who doesn't like the fuss of messy or tedious beauty care routines – which makes this magical serum even better. Packaged with a handy dropper, simply apply one full dropper directly onto the scalp and massage into wet or dry hair. That's it!
I've used the treatment twice a day on both wet and dry hair with amazing results. As a plus, this product works instantly and gave me an instant boost of volume right after applying. After a couple of weeks, my hair looked shinier, thicker, and all around amazing (eat your heart out, Kim Kardashian!). Since you only need a little bit, the bottled lasted almost two months.
So, how does this miracle serum work? The treatment contains Peter Thomas Roth's special Tri-Phase Complex, which targets all three stages of the hair growth cycle. Created for thinning, lifeless and damaged hair, the formula helps with hair woes due to hormonal changes, stress, age and over-processing.
For you green beauty lovers, there's another added perk – the treatment was formulated without the use of parabens, sulfates, GMOs and triclosan. Phew! Seriously, could this product get any better?
You can purchase Peter Thomas Roth Hair To Die For at peterthomasroth.com for $58.